Excavators are tough machines, designed for heavy duty work in difficult conditions. When regularly maintained, excavators can last for many years and typically remain in excellent working condition long after initial project use. Buying a new excavator is an expensive commitment and a buyer may not need the machine after completion of the current project.
This means that used excavators of all sizes become available for sale and reuse to other projects that require an excavator. The buyer is then faced with the choice of whether to buy a new machine, or a used machine at a significantly reduced cost. This article explores the range and prices of used excavators and offers a checklist of what to look for to be reassured of their serviceability.
Table of Contents
The used excavator market
There is wide range of used excavators available
What to consider when looking for a used excavator
Visual and physical inspection
Final thoughts
The used excavator market
The market for used excavators is driven by a number of factors. The economic impact of the 2020-2022 pandemic resulted in canceled projects, delayed projects, less available capital, and greater cost pressures. The high investment cost of new machines, together with ongoing economic uncertainty, unpredictable construction projects, and contained infrastructure investment, led to an increased demand for used excavators.
Although there are now many cheaper new machines on the market, that on paper appear good value, there are poor quality machines and inferior parts within this segment. Seasoned buyers may have more confidence in used big-brand machines, that are built well and last long, and available at lower cost, rather than being attracted to cheaper new machines of unknown quality.
Big brand names that dominate the used market include Caterpillar, Komatsu, Kobelco, Deere & Co, Volvo, Doosan, Volvo, Hitachi and XCMG. Some of these companies also certify the worthiness of second hand machines.
There is wide range of used excavators available
Small / mini excavators (up to 10 ton)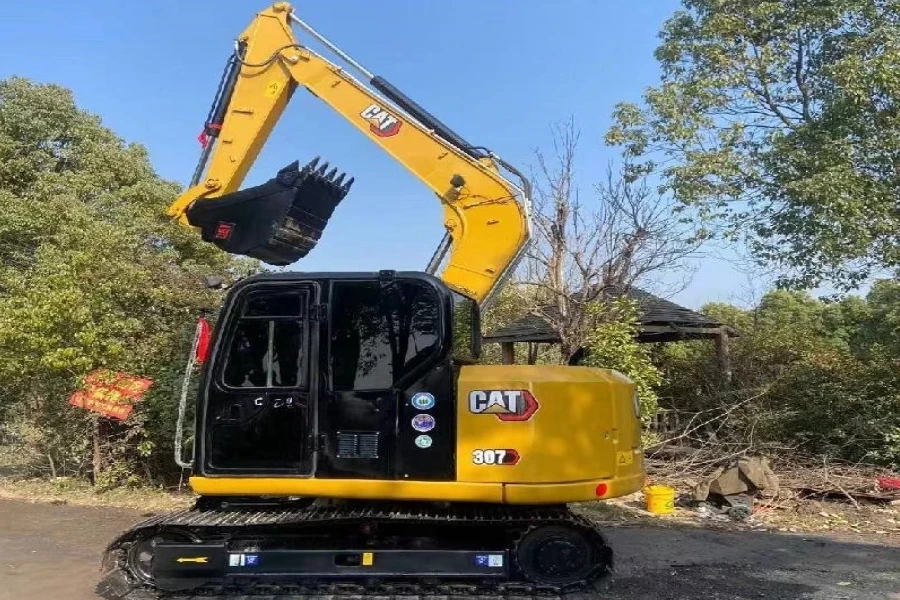 Mini, small or compact excavators range from around 1 ton upwards to 10 tons. Within this range, used excavators with about 3-4 years of use vary in price from under USD 5,000 to around USD 15,000. There are plenty of machines available, with good condition Caterpillar models available in 3 ton, 5 ton to 10 ton. There is also a wide selection of other brands, including Komatsu or Kobelco, Doosan, and all other major manufacturers.
Prices can vary greatly worldwide, with similar and even much older versions of the same models for sale through dealers or through auctions for upwards of USD 80,000.
Large used excavators (10-30 ton)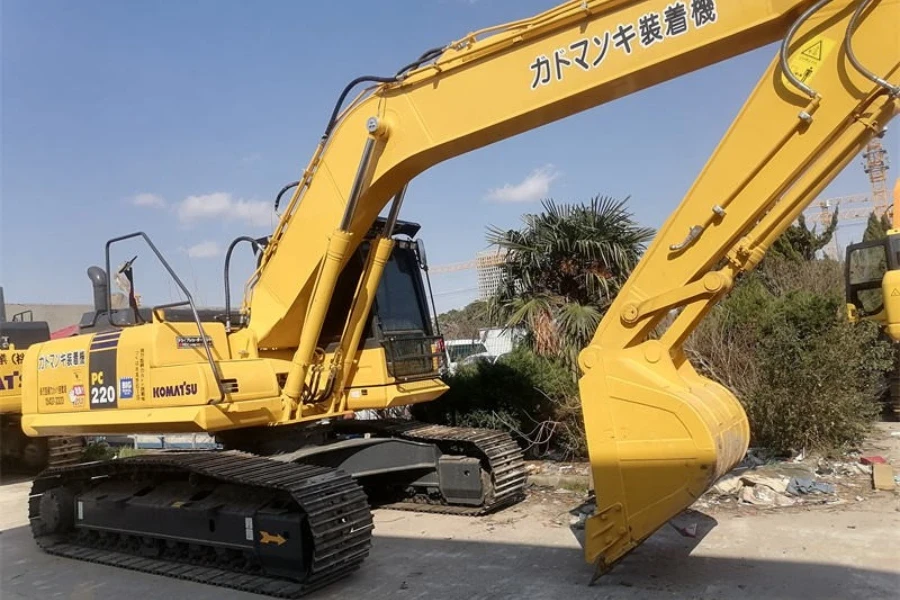 For larger excavators, there are certainly many on the market, from 11-15 ton machines, such as the 13 ton Hyundai R130VS priced at USD 9,000. There is a particularly wide range available in the 20-25 ton band. Prices do vary, such as the 22 ton Komatsu PC220-8 available for USD 30,000, the 219 ton chinese brand SANY SY215C available for USD 15,000, or the 20 ton Hitachi EX200 for USD 16,500.
Bigger excavators (30-50 ton)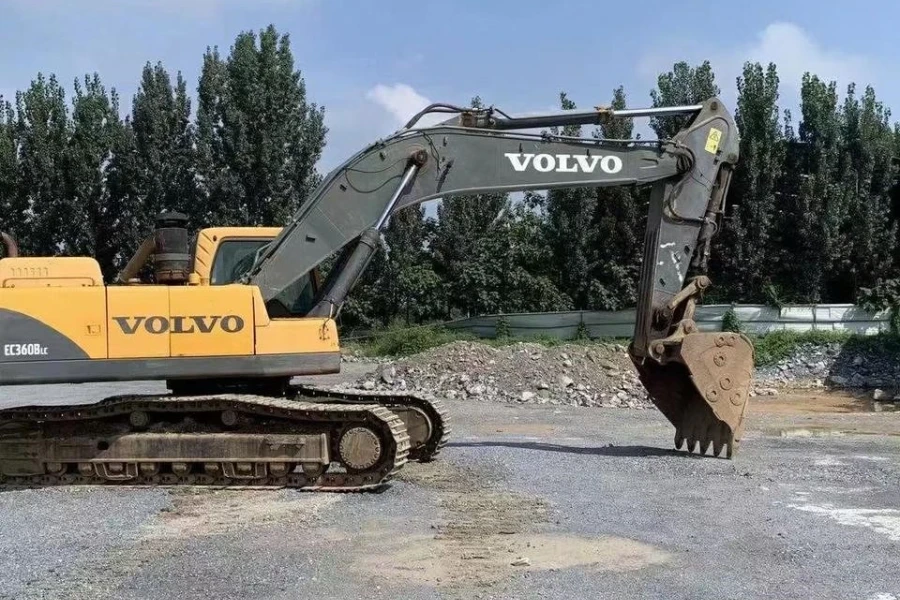 As the sizes of machines get larger there are fewer choices, but a wide range in tonnage and pricing. For example, there is the 36 ton Volvo EC360B for USD 35,000, the 36 ton chinese XGMA XG836 for USD 29,000, the 40 ton Komatsu PC400-7 for USD 55,000, or the 40 ton Caterpillar 340D priced at a range between USD 78,443 and USD 97,000.
Giant excavators (upwards of 50 tons)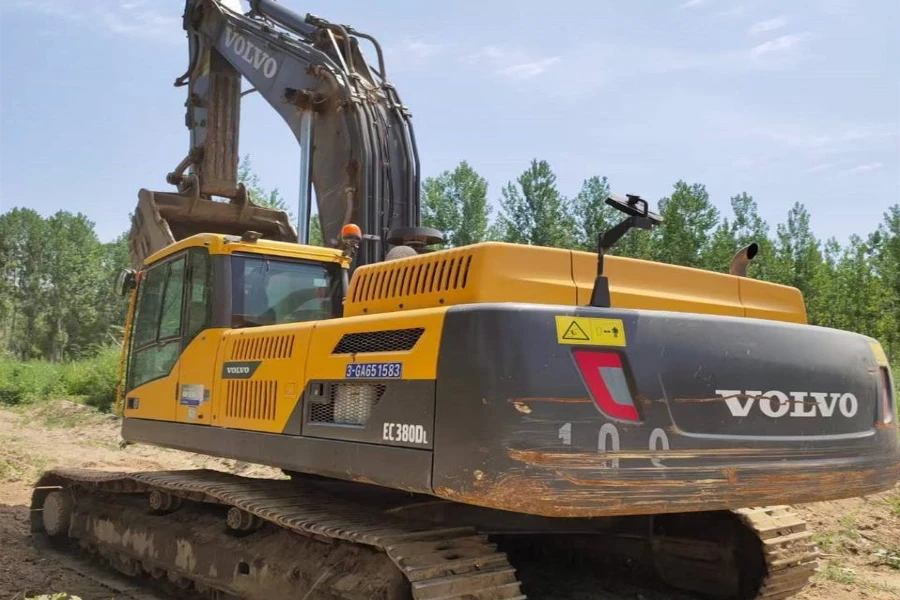 Prices don't necessarily increase as the size of the excavator increases. For example a used 80 ton Volvo EC380 available for USD 40,000, a 50 ton Doosan DH530 used excavator for USD 112,700, or a 50 ton SANY SY550H for USD 140,000. There are a lot less choices above the 40-50 ton range with the very large machines limited to a few brands that are mainly used in mining rather than construction.
What to consider when looking for a used excavator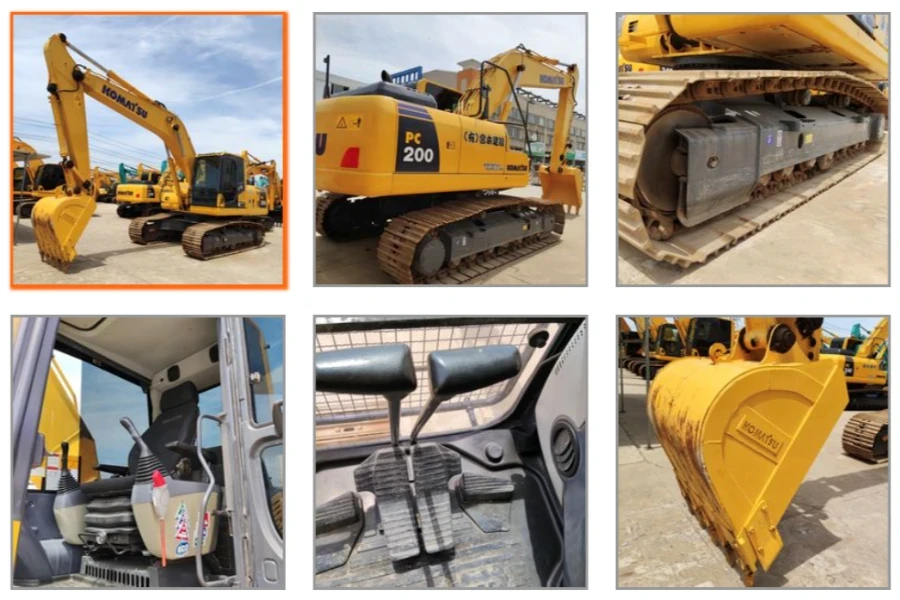 There is a variety of choice, and with that choice comes a wide range of prices. So how can a buyer make a good decision on a used excavator, especially if ordering online? The first considerations will be fitness for purpose, price and condition, and age (as indicated in the sales information).
When looking for a used excavator, fitness for purpose is an obvious requirement. The excavator must be big enough and powerful enough to take on the job in hand. This will determine whether you are in the market for a 5 ton mini, a 14 ton workhorse, or a giant over 50 tons. There are likely to be many choices of smaller to medium sized machines with a good brand name, and prices may even be comparable with new models from lesser brands. So first select size and power, and identify a few brands and models that are of interest.
Price is then an important factor, and must consider the condition of the machine. The buyer will need reassurance that the excavator has been maintained well and is in a good working condition, that is reflective of the price.
Condition and overall look of the machine will give an initial impression of the excavator, and in most cases this comes when first viewing photos online. It is very natural to look at how shiny and new the paintwork and bodywork looks. While this may be an indication that the machine is well cared for and maybe quite new (especially if the number of hours usage is low), engine and tracks can be washed and cleaned, dents can be knocked out and bodywork can be repainted. Remember, these are working machines that live in the dirt and amongst other moving machinery on the worksite, so a few dents and scratches can be expected and doesn't necessarily mean lack of care.
The age of the excavator, in years, will be shown in the promotional information, and you may also see hours on the clock. Does the age seem to match the condition as far as can be determined from pictures, and the price advertised?
If these initial aspects look appealing then it is time to look more at the individual areas of the excavator, cab, body, bucket and boom, engine, hydraulics, turntable and undercarriage. Most sellers will provide multiple photos from different angles so that you can see detail and condition, others may not. In most cases you will need to be able to physically inspect the excavator either before buying or after taking delivery, so a guarantee of return if not satisfied is important.
Visual and physical inspection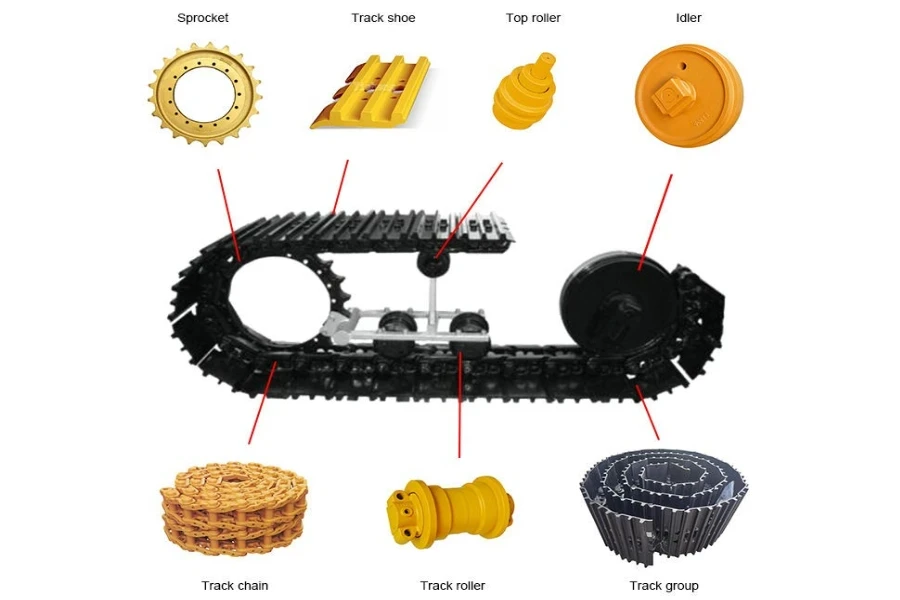 Undercarriage: Look for signs of wear and tear in the sprockets. Are the chain or the rollers worn? As the chain starts wearing down the rollers will start cutting into the pins on the track. Look for worn and shiny pins. If there feels like a clear edge on the bushings, that's another sign of excessive wear. If there is side to side movement on the track itself it can mean worn pins and bushings. If there has been excessive wear in the undercarriage, this leaves more gaps and leads to a slacker track. Users may then remove a link to tighten the track. Check the idler gap, and also the manufacturer's specifications, for the correct number of track links. Overall, although parts of the undercarriage can be replaced, if the track assembly is showing signs of significant wear, then it probably needs replacing and that must be factored into the machine cost.
Bucket and bucket pins, boom and arm: If there is a lot of movement in the pins, or the bucket looks battered or damaged, this can mean it's been heavily treated. Check for wear by laying the bucket on the ground and rocking it slightly from side to side and forward and back. This will show whether the fittings have remained tight and firm or there is excessive play.
Likewise with the boom and arm, is there movement in the joints? This can indicate that they have not been regularly greased and maintained and have excessive wear. A well maintained machine will always have lots of grease applied liberally everywhere. Signs of grease is a good thing. However, check that the grease is new and if possible flush out old grease. If it is hard and caked up, then the grease has not been changed regularly and there is likely to be associated wear and tear.
Turntable: Does the turntable rotate smoothly without any unevenness or instability? When turning the cab, is there a wobble or grinding noise? If it doesn't rotate evenly there may be a problem with the swing bearing that fits between the body and the undercarriage.
Cab condition: Does the cab look clean, is the seat clean and intact and does it adjust as it should? Do all switches look intact and in good working condition? These all indicate whether the machine has been well cared for and had a considerate driver / owner. A well used machine doesn't mean that the cab is poorly treated or neglected.
Engine: Does the engine look clean? Are there signs of any leaks around the engine or on the surrounding panels? Is there any white or black smoke (this is especially important as it can indicate engine or gasket issues)? Are fluid levels topped up? Are all hoses clean and tight?
Exhaust emissions: Was the engine originally EPA emissions certified? If so it would be wise to ensure that the engine is still performing to standards. An exhaust emissions analyzer can be used to check the exhaust emissions.
Hydraulics: Are all hoses, fittings and O rings intact? A weak seal will reduce hydraulic pressure. What is the condition of the hoses and pipes, and are there signs of hydraulic leaks? Check the chrome on the hydraulic rod. If there are scratches or marks these can indicate that the seal and packing of the cylinder is worn and not fitting well, causing wear.
Filters: Do the recorded machine service records show that hydraulic, engine oil and fuel filters were changed when fluids are changed? Is the air filter new or filthy, as both could indicate engine problems. Check all hose seals and hose clamps for tightness and possible leaks. Check all gaskets for signs of leaks.
Final thoughts
Assessing the quality of a second hand excavator from photos alone does have limitations in properly evaluating the condition and price of an online buy. Ask for additional photos and/or videos and for scans/copies of the service records. Try and choose a supplier that offers a satisfaction or return guarantee, and once delivered follow the above checklist as a minimum.
Remember the saying, caveat emptor (buyer beware), and make sure that you do as much due diligence as is reasonable and practical before committing. For more information on the wide choices of used excavators available, check out the Alibaba.com showroom.
Was this article helpful?