Luxury sofas offer long-lasting comfort and style with quality materials that give customers their money's worth. They're also a room's center of attention and a place to show off stylish throw pillows.
Looking to lend a stylish feel to your home or your customers? This article teaches you all you need to know!
Table of Contents
Market growth potential for luxury sofas
5 tips for luxury sofa selection
Other considerations for choosing luxury sofas
Key takeaways
Market growth potential for luxury sofas
Not many things beat lounging on a luxury sofa with good support and comfort. That's why luxury furniture is in high demand with surging sales to support it.
In 2030, the market is expected to reach $41.82 billion at a compound annual growth rate (CAGR) of 4.23%, with Europe holding the largest share at 4.14%. One of the factors driving this growth is the increase in luxury sofa manufacturing to meet demand.
Urbanization also fuels the demand for home furnishings. More businesses are capitalizing on this growth to boost sales.
5 tips for luxury sofa selection
When people search for luxury sofas, they consider their design, quality craftsmanship, and interior style. Other considerations include; how much space they have, their preferences, and their current lifestyle.
If your customers are stylish and have great taste, you'll want luxury sofas that exceed their expectations.
The following five key features will help you select the best luxury sofas for customers;
1.  Exceptional designs
Choosing sofas with exceptional designs can make your customers' homes more elegant and welcoming. A design that matches an interior style shows a person's personality and makes a statement.
In a moment, we'll discuss some luxury sofas with exceptional designs.
English club sofas
In the 20th century, the English club sofas, or English roll arm sofas were a classic in British manors. They have pleated, rolled arms that sit lower than in other traditional sofas. Their two-seat cushions and split backrest make them casual and sophisticated and add to their heritage appeal.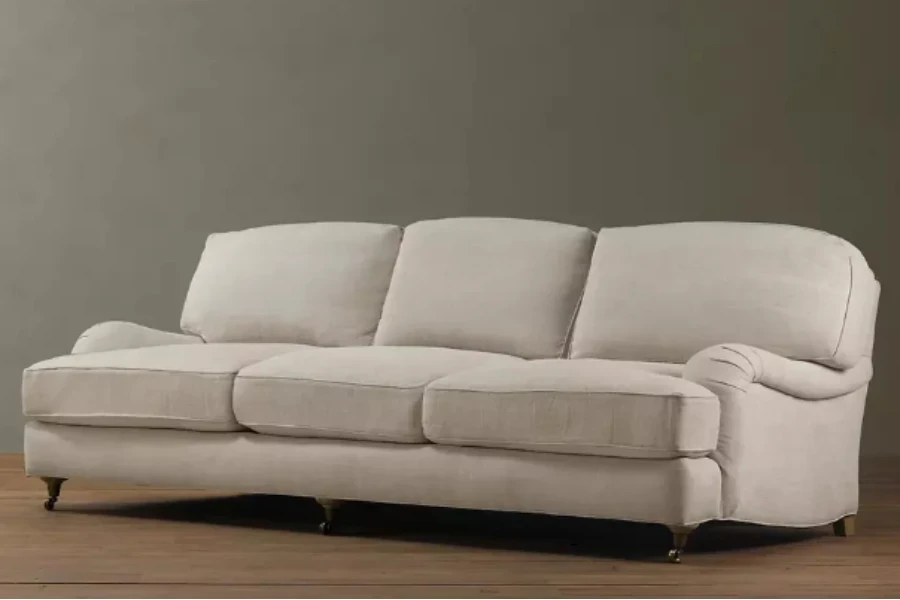 English club sofas' short legs, low seats, and thick cushions add to their plush look and make them comfortable and beautiful.
Modern Italian sofas
With sharper lines and metallic elements, modern Italian sofas have a simple look with attention to fine details. Expert craftsmanship and advanced technology combine to create an elegant, comfortable, and long-lasting sofa.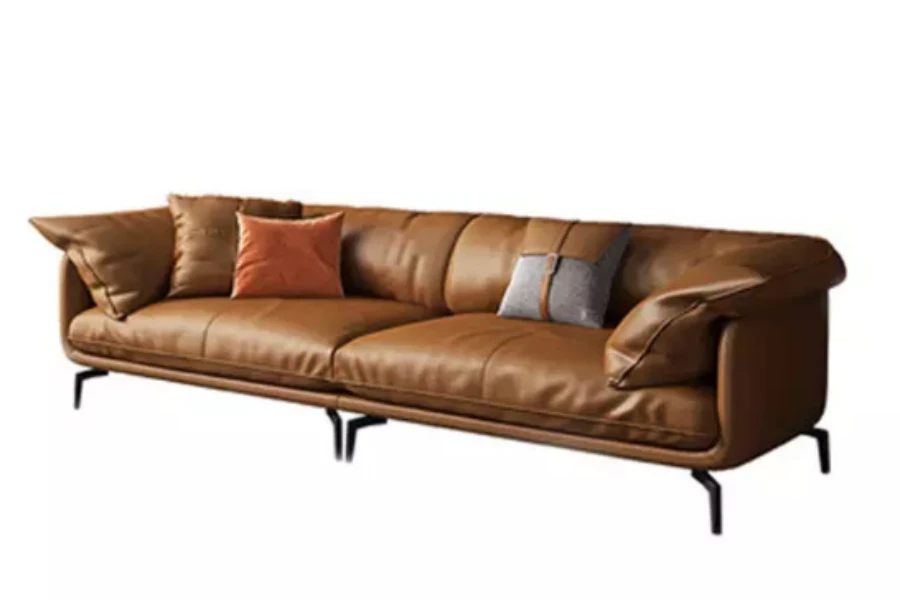 Aside from the fine craftsmanship, the iconic style also showcases Italy's rich culture and history. Leather is the hallmark of modern Italian sofas, but rich velvet and other materials are also used.
Chesterfield sofa
The Chesterfield sofa gained popularity in Europe and America during the 1800s. For some parts of North America, "Chesterfield" was synonymous with sofa. With deep button tufting and rolled arms that are the same height as the back, this piece is a classic luxury choice.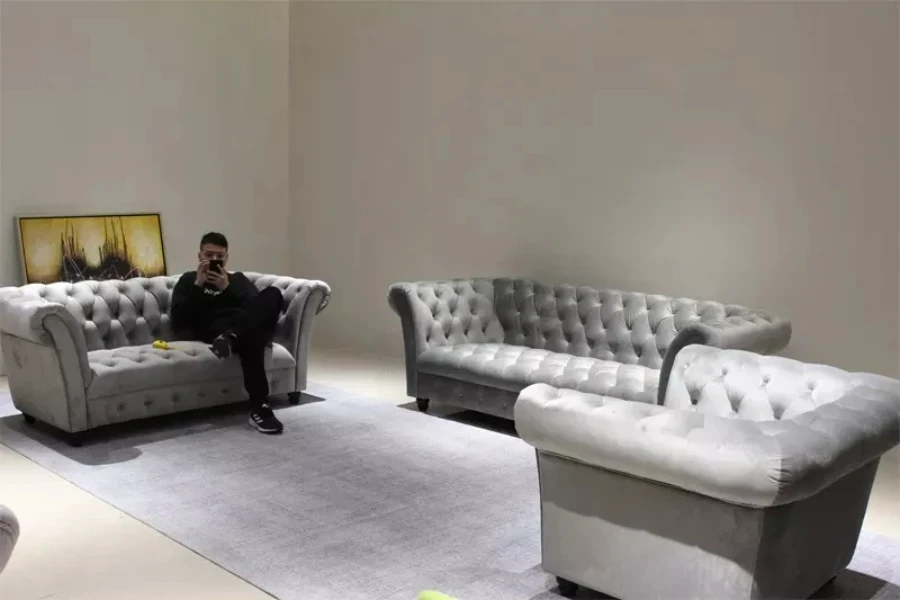 Chesterfield sofas were initially upholstered in leather, but these sofas now come in various materials like velvet and organic cotton fabric.
2.  Excellent craftsmanship
One of the hallmarks of a luxury sofa is excellent craftsmanship. Your sofas should have;
A solid frame: The durability and longevity of the furniture's structure are determined by this factor. Why? Because the frame supports the rest of the sofa.
Most luxury sofa frames are made from metal or solid wood, which makes them sturdy and long-lasting. But when a sofa is made with low-quality frame materials, such as plywood, its frame will start to deteriorate after a short period.
Fantastic upholstery: Luxury sofas are distinguished by their upholstery. Sofas with low-quality upholstery will wear out quickly and lose their elegant appearance.
Before selecting a luxury sofa, look closely at its upholstery. If the stitch markings are inconsistent, it could be an indication that the material is prone to tearing.
Soft and firm cushion filling: If you choose a luxury sofa for your customers, make sure their cushions are thick, firm, and soft. Customers shouldn't feel the hardwood structure of the sofa or sink into them so deeply that standing up is difficult.
In addition, the cushions should compress when the customer sits on them and return to their original shape once they stand.
3.  Sofa size
Consider the perfect shape that will seat the desired number of people and fit the room. Sofa sizes include;
Two-seater sofas: Two-seater sofas have two seats and two back cushions and are suitable for small spaces.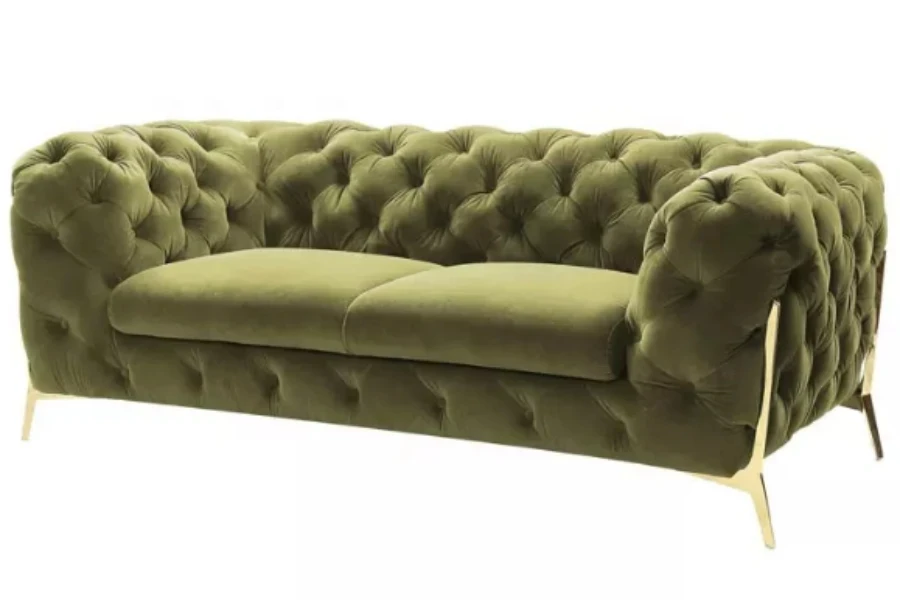 Three-seater sofas: Three-seater sofas are popular. They're bigger and there's leg space for customers to sleep on them.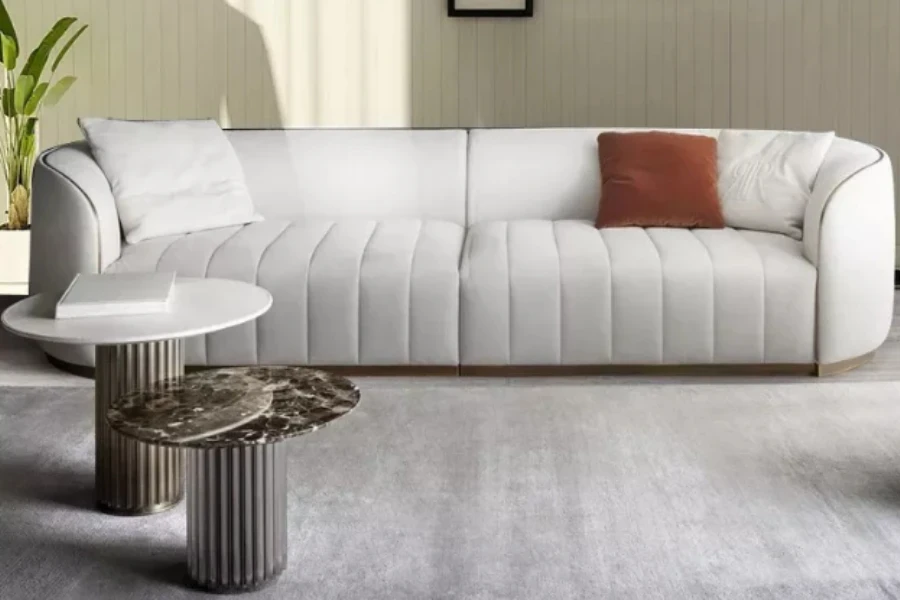 L-shaped sofas: L-shaped/corner sofas are great for customers with large sitting rooms. They have two different sections for improved support.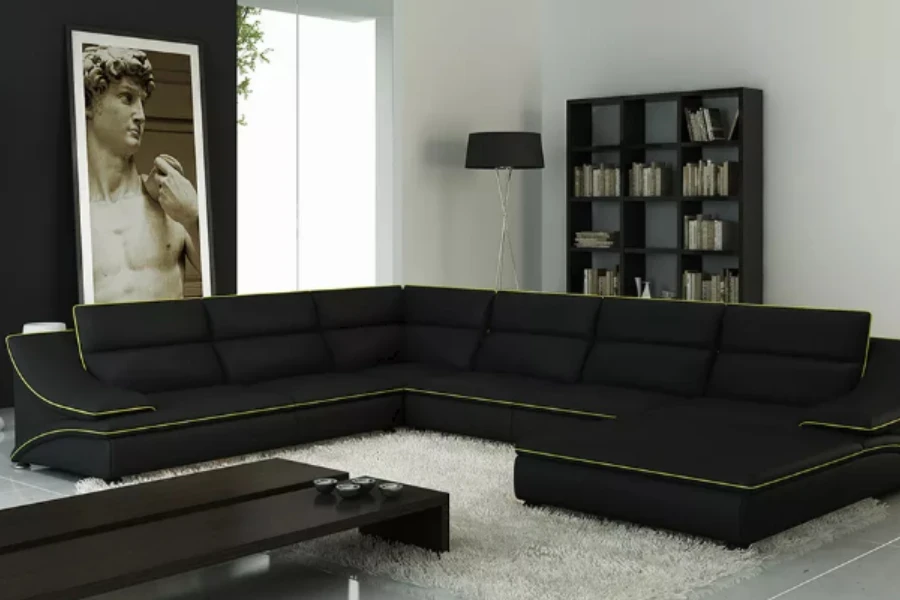 Chaise sofas: Chaise sofas usually come in three-seaters but with one of the sections extended.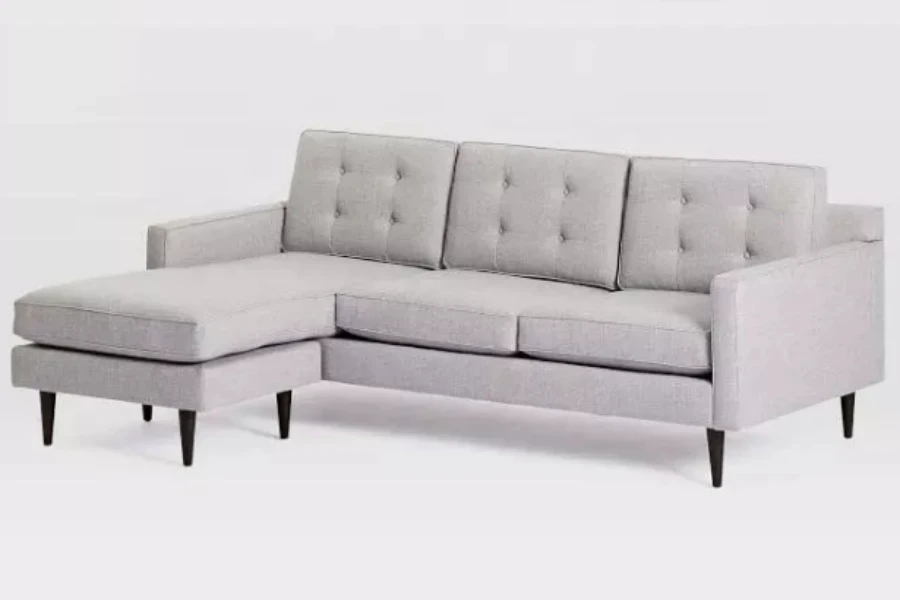 To an untrained eye, a chaise sofa may look like an L-shaped sofa. But unlike L-shaped sofas, its back does not continue after the curve.
4.  Interior design and style
You should consider the type of interior design and style customers have so that you won't select luxury sofas that don't match them. These luxury sofas match the following styles;
English club sofas: English club sofas' versatile design allows them to complement almost any home style.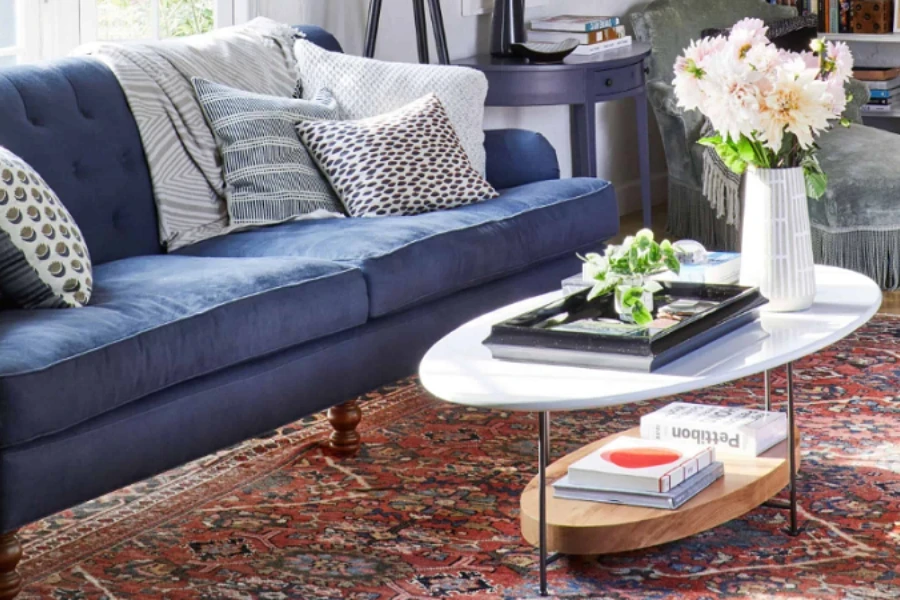 Customers can use them with a colorful area rug and a pair of side tables for a beautiful space. The leather types complement a classic British interior style.
Chesterfield sofas: Chesterfield sofas have a strong personality and work with a modern interior style. They can be a centerpiece in a spacious living room or a space for customers to wait in a fashion store or beauty salon.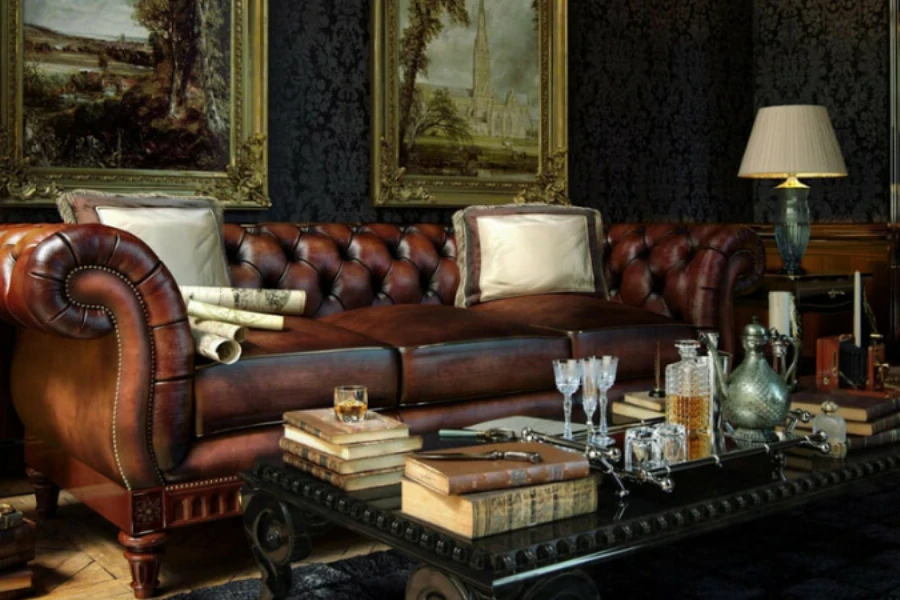 The sofas in leather can go with the traditional look of a personal library, living room, or gentlemen's club.
Modern Italian sofas: This design matches an Italian modernist style. This interior style balances furniture with clean, sleek lines with bright colors to give a room a cozy feel.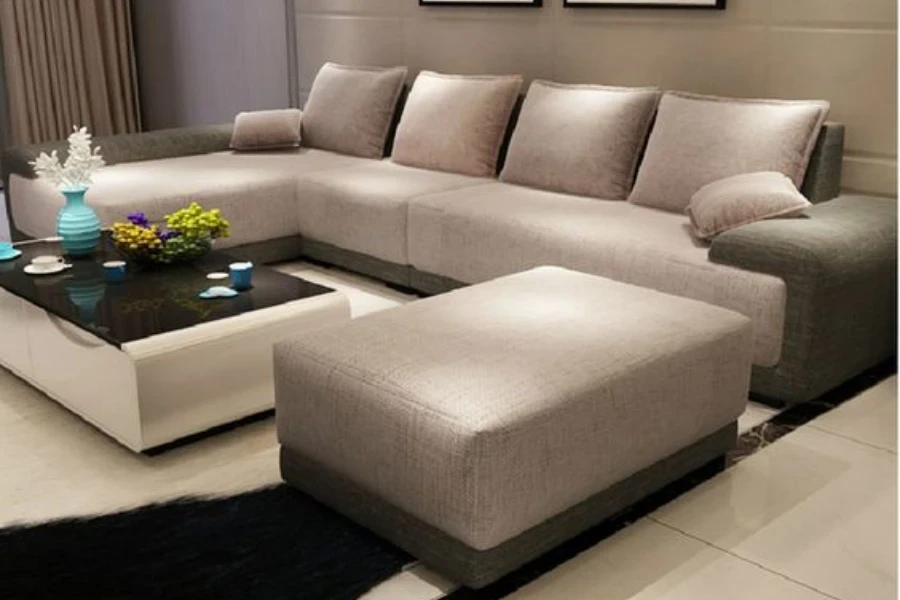 Modern Italian sofas with luxury materials like leather or velvet make the place they are in look cozy and impeccable. Using upholstery and rugs with colors that pop will also give the living space a more contemporary look.
With these luxury sofas, your customers can add fur blankets and brass candleholders to make the space more elegant and luxurious. Customers should also avoid sofas with synthetic fibers because they aren't suitable for luxury furnishings.
5.  Sofa fabric
A sofa set's fabric can affect its appearance and feel. Certain fabrics require more maintenance than others, but if your customers want a sofa that lasts long, choose a fabric that doesn't peel; and a soft and durable fabric if they have kids or pets.
Choose luxury sofas that feature the following fabrics;
Leather: Generally, full-grain and top-grain leather are the best in terms of quality and durability. As long as they're clean and maintained, they'll look good for a long time.
Leather does not absorb liquids or stains, and the patina gives it a sophisticated look. Due to their durability, leather sofas are also suitable for families with kids and pets.
Velvet: Homeowners can add style and glamor to their homes with velvet-fabric sofas. They're very soft and quite comfortable to sit on. Unlike leather, they require regular maintenance, which makes them unsuitable for families with pets.
Silk: Adding silk upholstery to a room adds depth and richness. Because of their fragility, silk-fabric sofas are best suited for formal settings, such as offices. Moreover, they must be professionally cleaned when dirty.
Other considerations for choosing luxury sofas
It's important that you understand your customers and their families. What are they looking for? How will they use the sofas? A sofa's lifespan is affected by the preferences and lifestyle of the owner.
That's why recommending the right sofas depends on the following factors;
Customer lifestyle
When buying luxury sofas for customers, consider where they'll use them. When it comes to home sofas, who will spend the most time on them? Are there children in the family? Does the space allow for sofas?
English club sofas are ideal if you sell to people with a large family and a living room where everyone gathers for game nights. Chesterfield makes a great lounge chair for a home or office. And modern Italian sofas are a great choice for those who appreciate Italian-modern style in both their home and office.
In a nutshell, ask customers about their current lifestyles and what is available in their homes before recommending sofas.
Customer preferences
Consumer preference matters a lot when it comes to luxury sofa selection.
For instance, many prefer Chesterfield sofas because of their high-quality build and authenticity. They're trendy, suitable for different environments, and convey an identity of high class and professionalism.
On the flip side, others might prefer English club sofas for a traditional or country vibe. Customers who want an Italian modernism look prefer modern Italian sofas. People like this want to balance minimalism with bold colors without feeling overwhelmed by pattern or texture.
Key takeaways
Sofa-selling businesses can increase profit by considering potential customers' lifestyles and preferences when stocking up their catalogs.
When selecting luxury sofas, ensure each type matches the style of the room it will occupy. Luxury sofas can fit any style, whether it's a classic or sophisticated look. Also, they reflect the cultures of their origins in their designs, attracting style and history-conscious customers.
With these tips, you'll be able to select the right luxury sofa for your customers.
Was this article helpful?