With fashion steadily evolving, the lines between styles often blur, creating intriguing hybrids that captivate the imagination. One enthralling fusion is the boho-goth trend, a harmonious marriage of ethereal bohemian and enigmatic gothic aesthetics.
This dynamic blend results in several spellbinding attires that exude a distinct charm. This article delves into five boho-goth trends that embody the unique persona for 2023/24.
Tables of Contents
Top 5 female Boho-Goth trends 2023/2024
Final words
Top 5 female Boho-Goth trends 2023/2024
1. Layering with sheer fabrics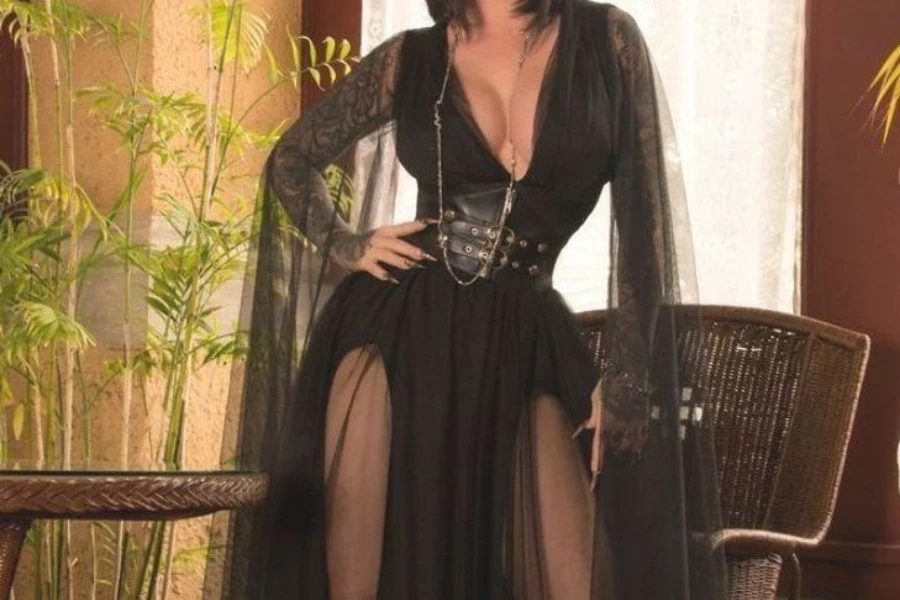 Boho-goth layering is a theme of contrasts and creativity. It invites consumers to play with light and darkness, textures and transparency, and experiment with their style. This trend transforms fashion into a visual narrative, allowing women to express themselves without words. And a perfect way to achieve this theme is by layering with sheer fabrics.
The best part is ladies can draw out the full potential of sheer fabrics like chiffon, lace, mesh, and organza through this trend. These delicate materials create a mysterious and sensual air, allowing women to add depth to their overall look.
Sheer slip dresses are one of the latest trends for this purpose. They help create a base layer in darker shades for a stylish boho-goth outfit. However, sheer bodysuits are also hot this season as they provide a more trendy alternative to slip dresses.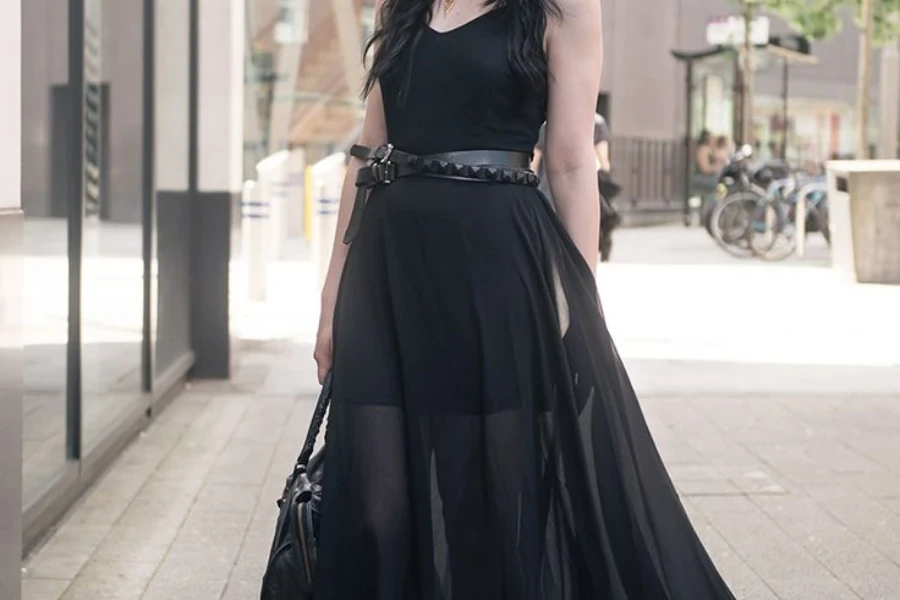 Another fantastic sheer trend is the sheer black duster. Consumers love its transparent overlay, which helps to enhance any boho-goth look. However, ladies can draw out the duster's beauty by layering a lace boho top underneath.
Sheer trousers are also trending this season, but with a twist. More updated versions feature cutouts, attractive gothic-inspired details, and asymmetrical designs. Flared sheer trousers are also popular options for consumers who prioritize comfort.
One of the latest trends for the bohemian side of this outfit are kimono-style cover ups. They often feature intricate patterns, vibrant colors, or eclectic prints. Ladies who prefer more structured designs can opt for a flowing jacket – another trendy bohemian-inspired option.
While sheer base layers (like jumpsuits or slip dresses) create the perfect foundation to capture the gothic aesthetics, bohemian-inspired outerwear (like flowing jackets) can spruce the look with a care-free vibe. On the other hand, layering sheer outerwear over classic bohemian pieces will upgrade the ensemble's aesthetics.
2. Witchy attire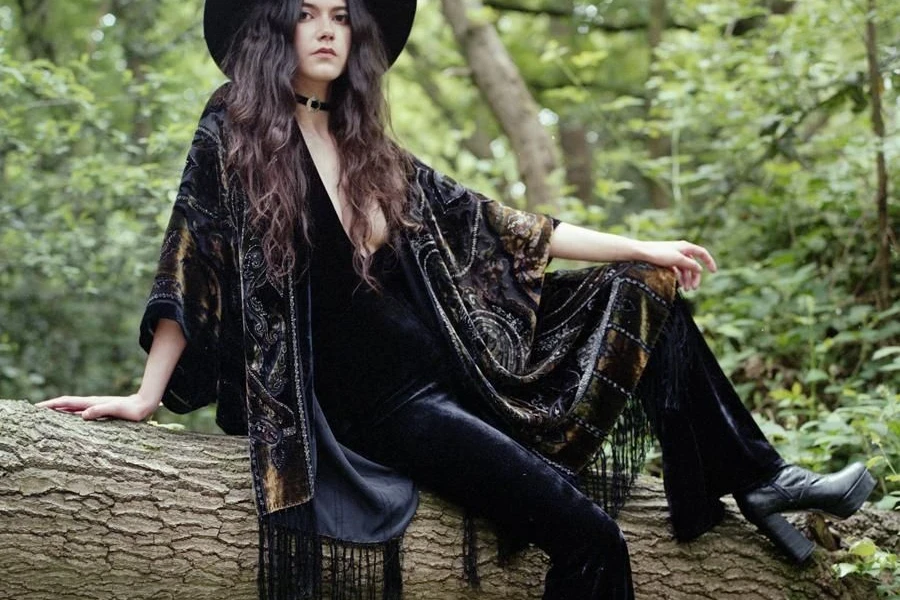 Dressing like a witch is all the rave these days, even if most consumers don't have the associated magical powers. A perfect fusion of bohemian free-spiritedness and mystical allure, the boho-witch trend has captured the hearts of women looking to embrace their inner wild child and their dark, mysterious side.
Layering is key to achieving an attractive witchy attire. Since the style involves matching different textures, ladies can experiment with striking contrasts to create enchanting and unconventional styles full of character.
One delightful boho-witch trend ladies will love is a fringed shawl. They can layer it over a crocheted top or a velvet kimono and finish the trendy ensemble by adding a boho-maxi skirt.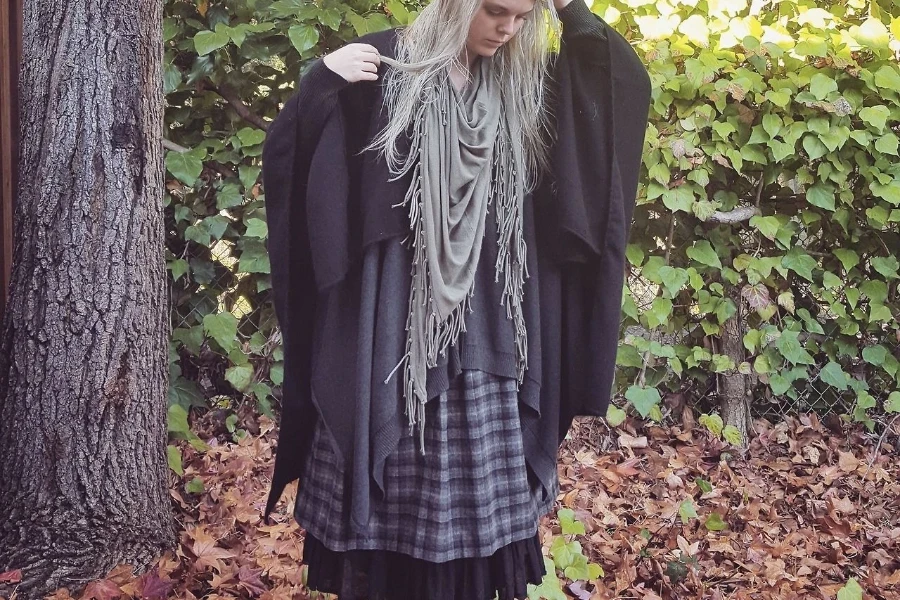 The maxi dress is another fantastic boho-witch trend. These dresses now feature enchanting prints to fully capture the witchy aesthetic. Ladies can pair the maxi dress with ankle boots or strappy sandals to exude an ethereal charm.
Layered skirts are also iconic items that fall under the boho-witch trend. They're popular for their unique, textured appearance, which exudes an irresistible witchy charm. Combine the layered skirt with a lace top to harmoniously blend bohemian and mystical goth elements.
3. Maxi skirt and band tee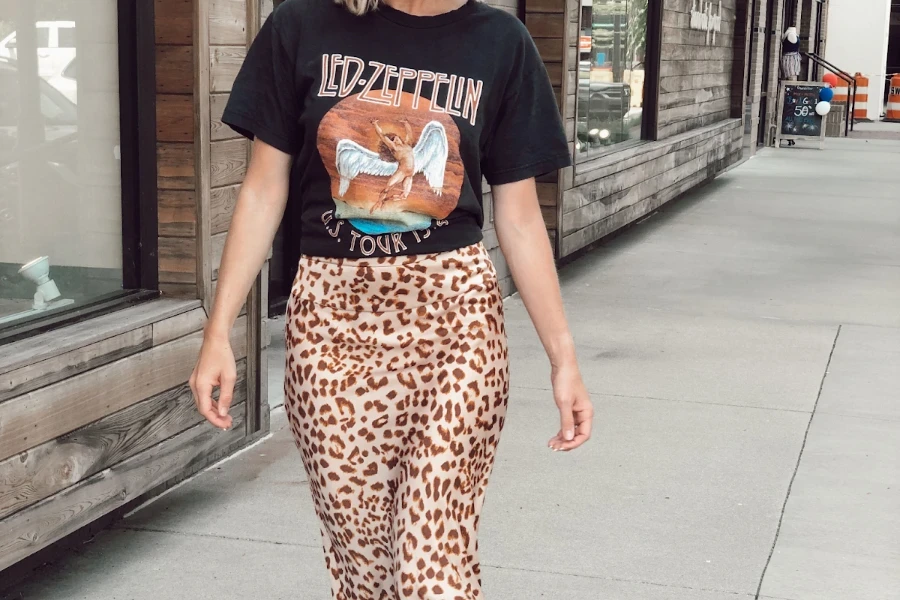 Boho-goth lovers love feeling free and dark, and the maxi skirt and band tee outfit is the perfect way to help them fulfill their fashion desires. In truth, the outfit creates a unique and intriguing look that's nothing short of bold and unconventional.
Maxi skirts pay homage to the bohemian side of this outfit. Usually, they feature lightweight fabrics, helping to enhance their ethereal and romantic appeal. However, they incorporate an element of softness that balances the typically darker gothic palette in a boho-goth setting.
Denim maxi skirts are one of the latest trends having a big moment this year. They come in various popular washes and styles, from classic blue to light wash and black. Tiered maxi skirts are also gaining popularity as they introduce more drama and interest to the already intriguing boho-goth outfit.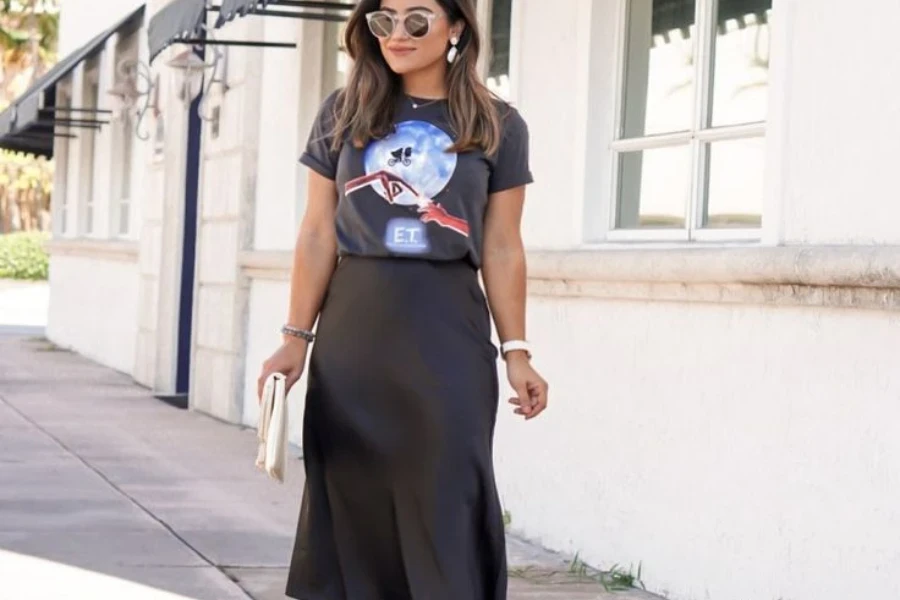 On the other hand, band tees are a quintessential representation of the gothic style. They often feature graphics of iconic bands or designs inspired by the gothic aesthetic. Moreover, these t-shirts infuse authenticity and attitude, effortlessly complementing the maxi skirt's bohemian charm.
Nevertheless, cropped band tees are one of the most popular trends for women this season. Although black is the primary gothic hue, other darker colors like burgundy, purple, and forest green are also trending for band tees.
Although pairing the maxi skirt and band tee creates a sufficient boho-goth outfit, women can elevate the aesthetic with layering. They can throw a cropped leather jacket or fringed kimono over the get-up for a seamless look.
4. Gothic kimono with boho fringe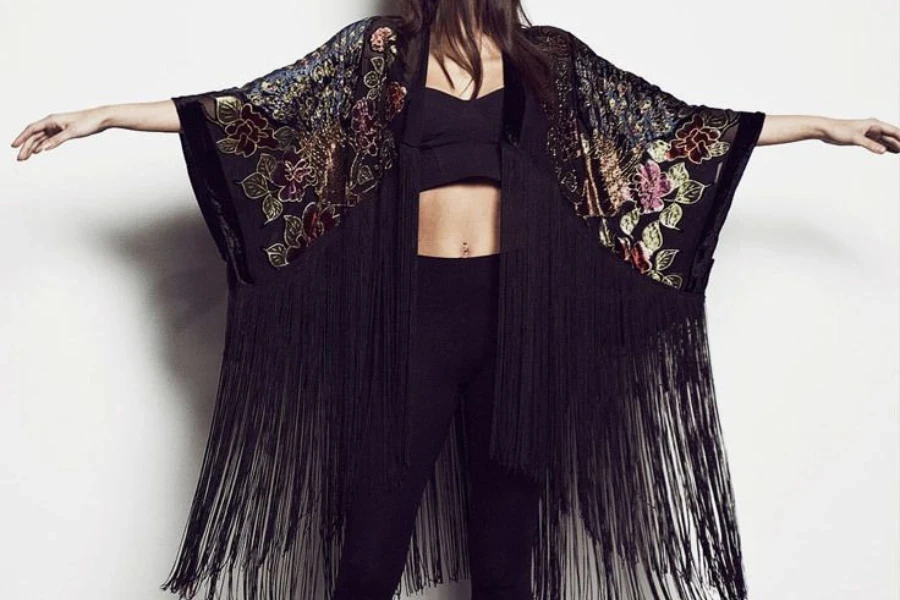 Combining bohemian and gothic aesthetics results in eye-catching outfits. One such ensemble is the gothic kimono and boho fringe combo. This outfit ticks all the boxes for an attractive boho-goth look, and it's not hard to see why.
A reinterpretation of the traditional Japanese garment, gothic kimonos veer away from its boho cousin to feature deeper hues, intricate patterns, and more dramatic silhouettes. These flowy garments also come in darker materials like velvet, silk, or lace, evoking a sense of gothic luxury.
However, consumers favor certain gothic kimono styles over others. For instance, kimono jackets are emerging as an effortless way to rock the trend. In addition, red, purple, and green are also popular for gothic kimonos this season.
Sheer kimonos are also taking the gothic center stage. Their stylish designs are perfect for layering, making them a must-have item for ladies this season. Ladies may also opt for gothic kimonos featuring dark florals, which are also trending in 2023 for their eye-catching combination of flowery prints and gothic aesthetics.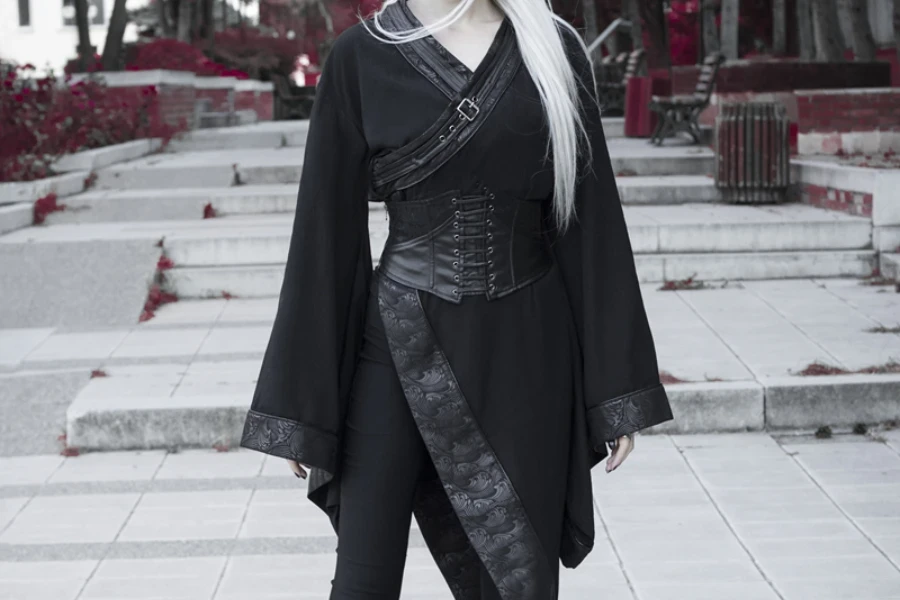 In contrast, boho fringe is a bohemian fashion hallmark that effortlessly fits into this boho-goth style. Fringe details on garments, such as shawls, vests, or skirts, balance the darker aesthetics with a playful and carefree vibe.
Fringe skirts are a classic boho item, perfect for incorporating glamor into the gothic kimono. Skirts with long, flowing fringes are getting the most attention this season because of their added visual interest when swaying in the breeze.
Additionally, fringe tops are another great way to add boho flair to the gothic kimono. Consumers interested in this trend can't go wrong with tops featuring delicate fringes that add extra movement to the boho-goth look.
5. Lace top with black jeans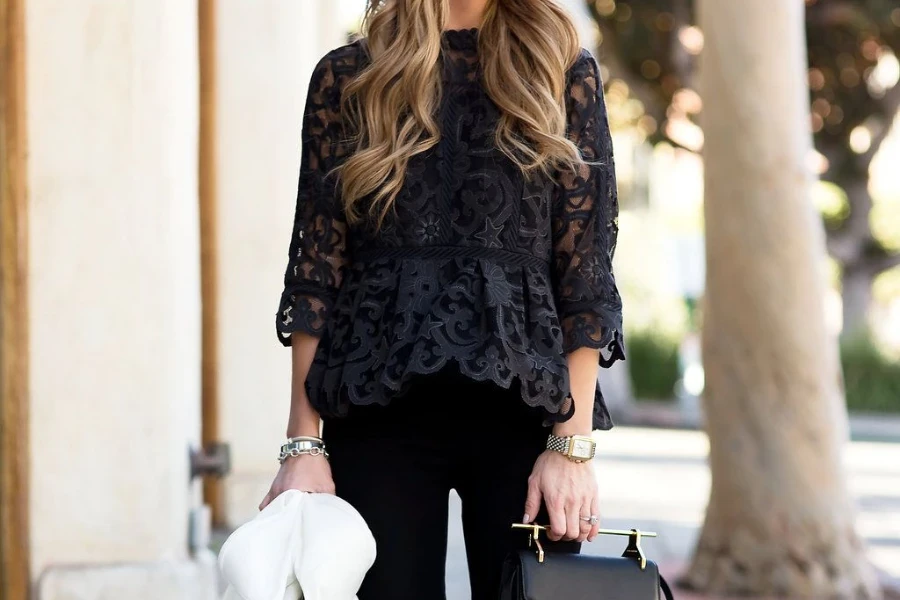 Although gothic outfits are usually dark, this trend proves that women can pull the style off with a romantic and feminine flare. The lace top and black jeans combo step into the boho-goth spotlight with casual and sensual charm.
Lace tops are staples in bohemian fashion. They bring an air of delicate femininity with intricate patterns that remain iconic in modern times. When consumers add them to boho-goth ensembles, lace tops introduce softness and texture, creating a fantastic contrast with gothic fashion's dark and dramatic elements.
Women also have various stylish lace top options for boho-goth outfits. For example, sheer lace tops are perfect for women looking for a night out or special occasion outfits. Cropped lace tops also make a statement, especially with frilled or ruffled edges.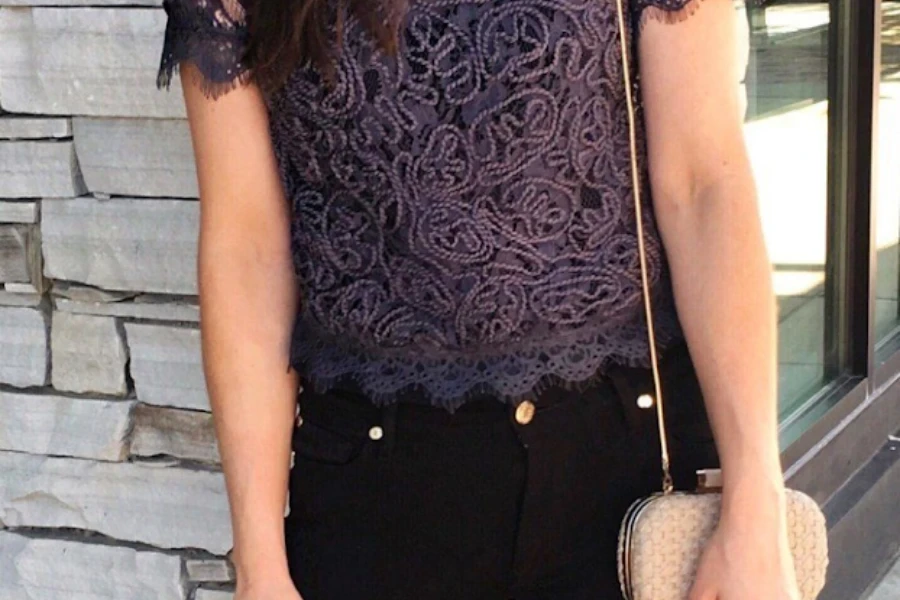 Consumers seeking a more feminine and flirty option can opt for off-shoulder lace tops featuring delicate straps or lacework. Or they can rock with bell-sleeves or high-neckline lace tops for a vintage and romantic feel.
Paired with lace tops, black jeans anchor the outfit firmly in gothic style. The deep black hue emulates gothic aesthetics, signifying mystery and sophistication. More importantly, the jeans provide a sleek and edgy foundation that complements the bohemian aspect's more whimsical and flowing elements.
Consider layering a lace top over a black camisole or bralette to embrace this trend's aesthetics. This layering technique adds depth to the look and balances the delicate lace with a touch of gothic edge.
Final words
The boho-goth trend brilliantly blends dark allure with bohemian freedom through exciting textures, colors, and outfits. It allows consumers to express their complex personalities while remaining stylish enough to make heads turn.
Layering with sheer fabrics and witchy attire breathe attention-grabbing characteristics into this trend, while the maxi skirt/band tee combo presents a classic boho-goth outfit. Conversely, the gothic kimono/boho fringe style redefines traditional styles, and the lace top/black jeans ensemble adds romantic and feminine beauty.
Businesses can leverage these boho-goth trends to cater to this niche's desires and increase sales in 2023/24.
Was this article helpful?