Traveling with kids can be a stressful time for parents, other family members, and even teachers. To allow a child to have slightly more independence and to save space in other bags, it's important to let children have their own luggage or bags to pack. There are a wide variety of kids' luggage and bags in 2023 to choose from, but the most popular ones are both appealing to children and can often have multiple functions that make traveling easier overall. So read on to explore the top trends in kids' luggage for 2023.
Table of Contents
Things to consider when choosing kids' luggage and bags
Global market value of kids' luggage
Top types of kid's luggage and bags 2023
What comes next for kids' luggage?
Things to consider when choosing kids' luggage and bags
Not all bags and pieces of luggage are built with the same consumer in mind. Younger children will need to have smaller and easier-to-use bags, whereas older ones can handle more mature pieces of luggage or backpacks with different features built into them. Here are some points to consider when choosing the right kids' luggage or bags.
Size
The size of the luggage or bag is a very important consideration, especially if the item in question is for a very small child that may struggle to walk with bags that are too bulky. The majority of regular size carry-on suitcases will be more than enough for kids to pack their clothing and other items such as games and toys inside, but some brands have designed their own smaller versions of suitcases with children in mind.
It's also important to take into account the weight of the luggage or bag as kids will struggle to pull anything that's even remotely close to their weight. Go for a lighter material to ensure that the luggage or bag can be used to its full potential.
Durability
The next factor to take into account is the durability of the luggage or bag. Kids of all ages are notorious for getting items dirty or ripping things, which is why it's important that luggage in particular is sturdy. Hardshell cases are a great option for children as they protect the items inside and are easy to clean and maintain. In terms of backpacks though the best option is to go for a soft shell bag with a wipeable exterior so that they're easy to carry.
Organization
While many adults want a lot of storage space and compartments built into their luggage and backpacks, kids' luggage and bags are the opposite. Luggage will often only have two separate compartments for clothing and sometimes a mesh compartment for dirty clothes too.
Backpacks tend to have one large compartment with side mesh pockets to store a water bottle or snacks. The idea behind these simple designs is that kids will easily be able to access what they need without opening several different pockets or compartments which can lead to confusion and cause unnecessary outbursts.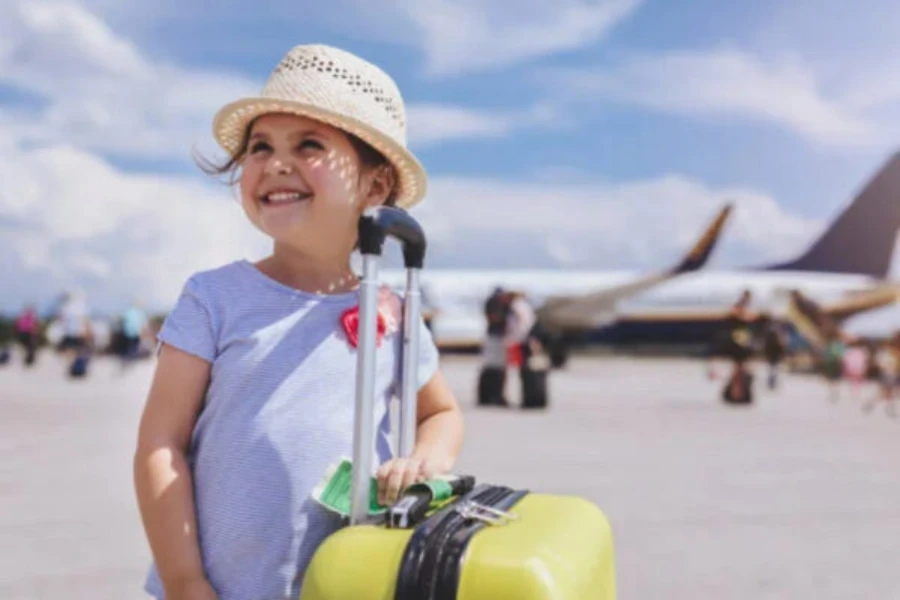 Global market value of kids' luggage
In recent years there has been a significant rise in the number of consumers traveling, whether that be abroad or closer to home, in cities or RVs and campers. This is down to a number of factors such as consumers having a larger disposable income to spend and consumers wanting to spend their money on activities rather than physical products. These lifestyle changes mean that more families are also going on trips together, which is where sales growth in kids' travel bags comes from.
In 2018 the overall global market value of kids' travel bags reached USD 185.5 million with families preferring to go on educational tours and leisure trips. Almost 75% of these sales came from trolley bags because of their ease of use with the wheels attached. Backpacks, however, are expected to grow in popularity in the coming years, with a compound annual growth rate (CAGR) of 15.9% between 2019 and 2025. Some companies are even combining these two popular kids' travel bags to create eye-catching rolling backpacks.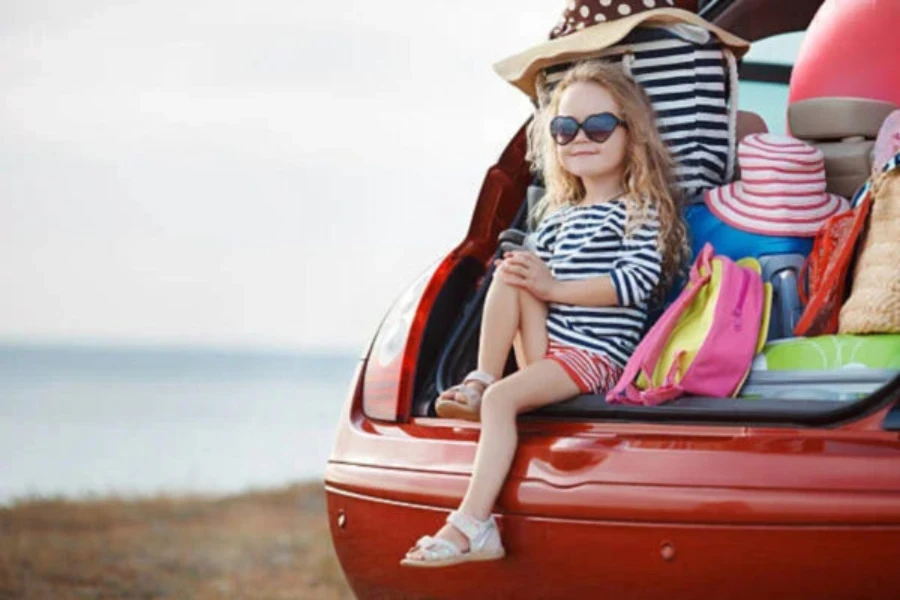 Top types of kid's luggage and bags 2023
As traveling becomes a more popular family activity, new styles of luggage and bags for kids are beginning to hit the market. These bags are not only functional for children of all ages but are also physically appealing to children which helps to elevate the journey. The top types of kids' luggage and bags of 2023 include the matching trolley suitcase and backpack, the school backpack, the diaper backpack, the waterproof soft shell backpack, and the rolling backpack.
Matching trolley suitcase and backpack
Just like adult luggage, kids' luggage also comes in matching sets. The matching trolley suitcase and backpack combination is an attractive travel bag set that more often than not comes in a hardshell form. The suitcase and backpack can either be completely matching or have the same theme and be slightly different, but there can be no denying that they are a set. In some instances, these sets will have the ability to click together in some way so that the backpack can easily sit on top of the suitcase when it's being rolled.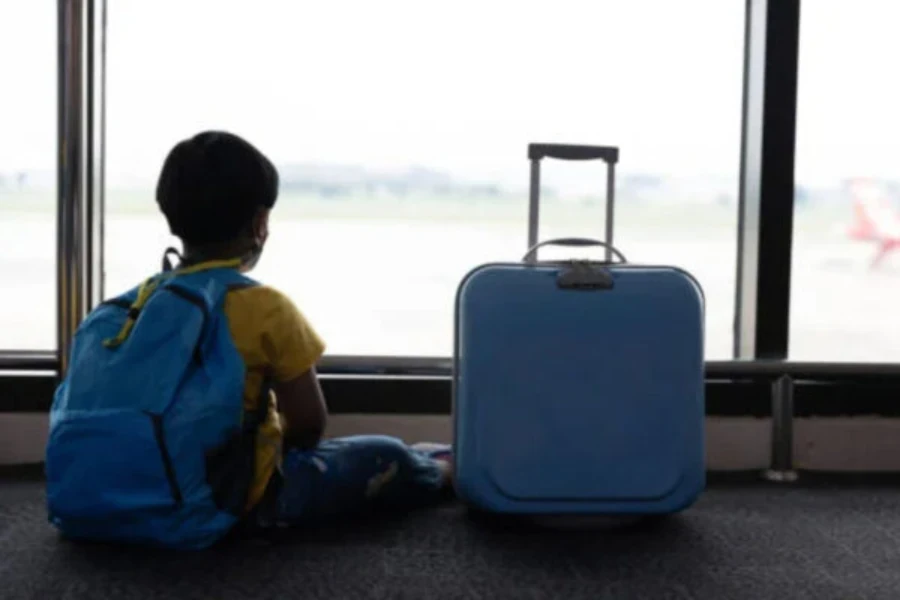 School backpack
For consumers who are traveling with children who have also started to attend school, using a general backpack for traveling is a popular option too. The typical school backpack is generally useful for more than one purpose thanks to the pockets and storage space. While some children will prefer to have a more basic backpack with only a few colors in the design, others will lean towards ones that have a cartoonish nature to them that are instantly recognizable and add to the personality of the consumer.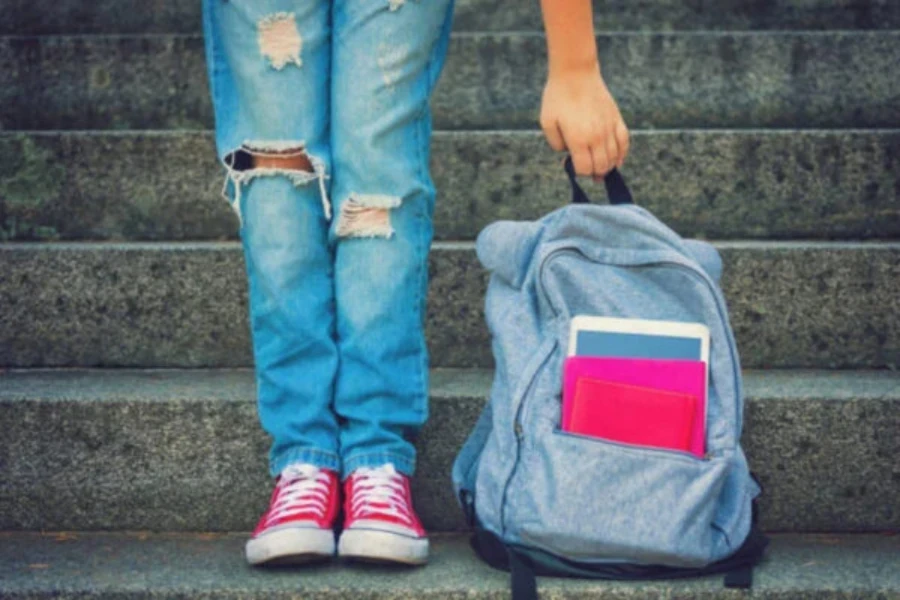 Diaper backpack
Not all kids' are capable of carrying their own bag, and in many instances families will be traveling with babies or toddlers who need to be taken care of, particularly with diaper changes. The game-changing diaper backpack is one of the best types of kids' bags on the market, with features such as a detachable bag, waterproof material, side pockets, and a portable changing pad included. There is always plenty of storage in this type of travel bag which makes baby care and traveling with kids of a very young age a breeze.
There are other versions of the diaper backpack that are popular with parents too. The hanging diaper-changing caddy is perfect for diaper changing in airports or in hotels as it holds all sorts of products that are essential for diaper changing. Some mommy backpacks also have a built-in changing station or a foldable baby bed which can be very useful for parents who are on the go and need to save time.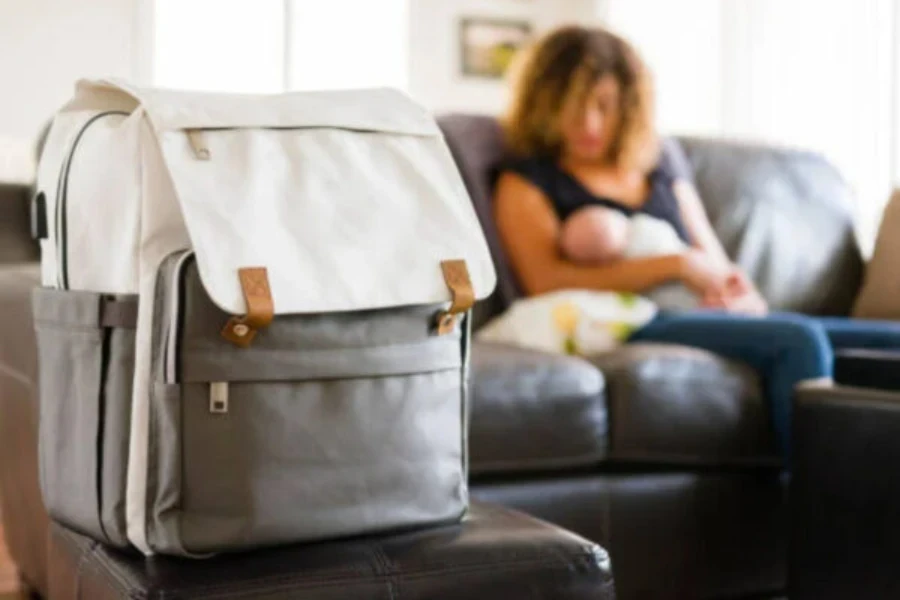 Waterproof soft shell backpack
A durable backpack is essential for daily life and traveling, especially for kids as the backpack will be used a lot and go through a lot of wear and tear. The waterproof soft shell backpack, often made of a vinyl material that's easy to wipe clean, is a very popular type of backpack for kids to travel with. The lightweight material paired with its waterproof features makes it very easy to carry and maintain. These backpacks are often bright and colorful to appeal more to kids and will have a lot of storage space inside for clothes and toys.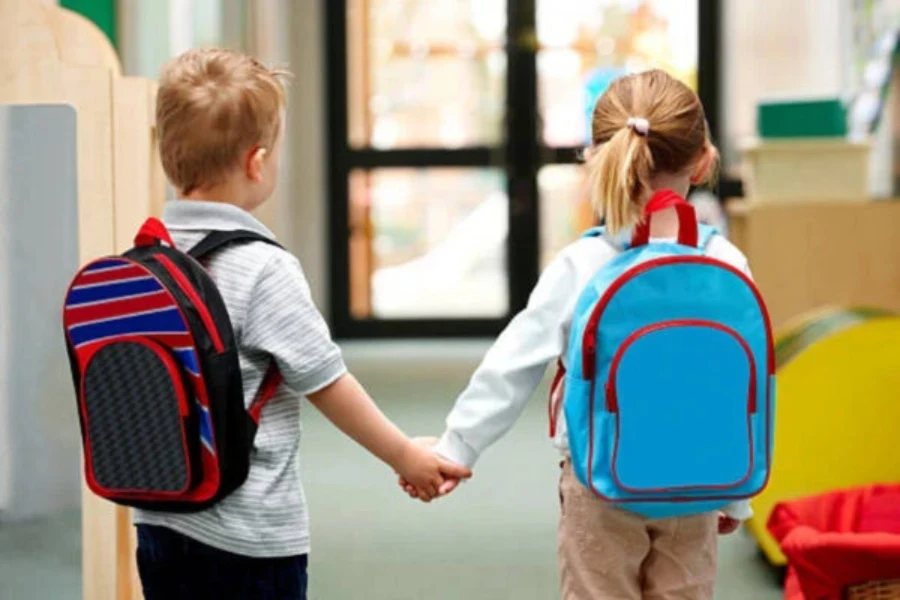 Rolling backpack
Having a suitcase and backpack set is always a great option for kids, but more companies are producing a combination of the two in the form of rolling backpacks. This luggage-backpack hybrid is the best of both worlds as it can easily be wheeled or worn on the back. The lightweight material of it means that it's not as heavy as a regular suitcase, and in some instances the wheels and frame can be removed. The rolling suitcase is one travel bag that doesn't look to be losing its popularity any time soon.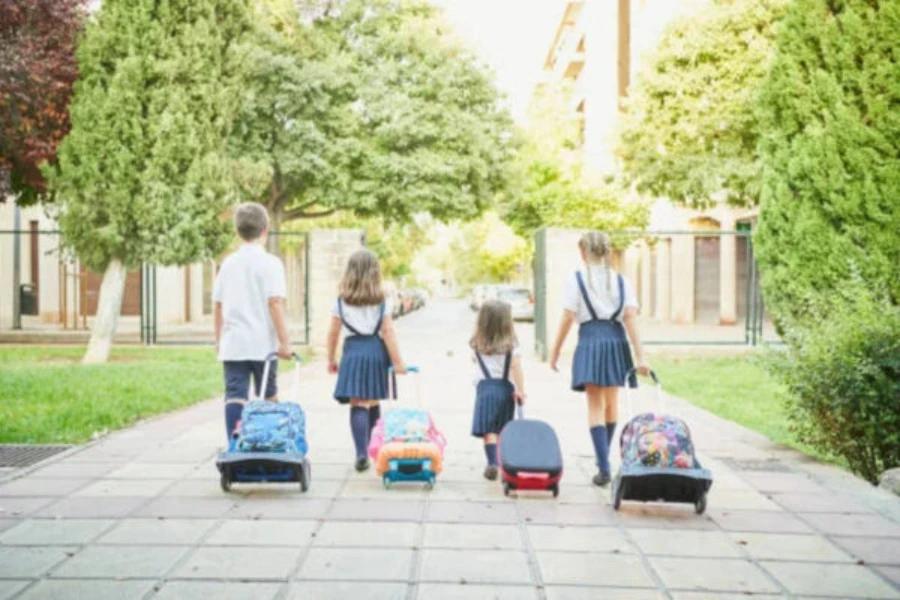 What comes next for kids' luggage?
Choosing the right luggage or backpack for kids is essential to ensure a smooth period of travel for both the user and the parents or teachers. There are many features to consider when choosing the right travel bag such as durability, size, and the way that it's organized internally and externally. The top types of kids' luggage and bags in 2023 include the matching trolley and suitcase set, the school backpack, the diaper backpack for parents, the waterproof soft shell backpack, and the rolling backpack.
All of these styles of backpacks are used by boys and girls, and as travel becomes more popular with families the market is expecting even more unique and innovative forms of travel bags to hit the market for kids. Retailers should also note that eco-friendly materials are becoming very popular with all types of luggage, so this will also be implemented into kids' luggage and bags too in the near future. Visit Alibaba.com to browse a range of backpacks available today!
Was this article helpful?